We are happy that you have come. Arial and her friends have been waiting to show you their world. It's a world of magic where things are not always what they seem. Please, come in a stay awhile, there are a lot of things to see here and they are ever changing. So do come back often, we will be waiting through the ivy hedge.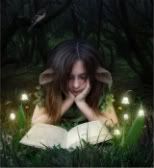 If you want your children to be brilliant, read them fairy tales. If you want them to be geniuses, read them more fairy tales. ~Albert Einstein~
© Tami Ruesch, The Misty World of Arial Hollyberry, 2009-2016. Unauthorized use and/or duplication of this material without express and written permission from this blog's author and/or owner is strictly prohibited. Excerpts and links may be used, provided that full and clear credit is given to Tami Ruesch, The Misty world of Arial Hollyberry, with appropriate and specific direction to the original content.
May 22nd, 2009 |
Author:
Arialhollyberry
Much to my delight, Arial gave me permission to film one of the baby flower faeries as she was learning to fly this morning. She was a little unsteady at first, this being her first time out of the bud (flower faeries come into the world straight from the buds of spring flowers).
I'm not sure how Cythia will take the news that  one of her fledgling faeries was captured on film for the whole world to see, but like Arial said, "It's easier to ask forgiveness than it is to get permission!"  She motioned for the newborn faerie to come out into middle of the yard and away from the ivy hedge so that I could see her better. Arial laughed, it was like a thousand tinkling chimes blowing in the wind as she said, "Besides, how many humans do you think will really believe it?"
I guess everyone will have to decide for themselves. As for me, I believe!
Posted in
Daily Life
,
Entertainment
,
faeries
,
fairie videos
,
Flowers
,
garden
,
Writing
|
Tags:
Arial Hollyberry
,
Fairie Stories
,
fairie video
,
flower faerie baby
,
garden
,
ivy hedge
,
morning
For those who would rather listen, you can find all of the audio post in one convenient place, just look under the tab "Faeries in word and song". These are arranged from earliest to most recent so that you will be caught up on all the adventures. Turn up your sound!

"Kind One?"
"Yes Arial..."
"You forgot something."
"I don't think so Arial, what are you talking about?"
"look at the bottom of the posts!"
"I still don't...wait a minute...oh of course! Thanks for bringing that to my attention, what ever would I do without you."
Arial wants me to point out that you can also listen to each post by playing the audio at the end of each posting.
You Know a Fairie is Present When...
You hear a whispering of leaves.
You see a whirlwind.
You feel a tingling sensation in your hair.
You have an unexplained loss of time.
You laugh uncontrollably, or feel exceptionally silly.
You see blades of grass bending when there
is no one around.
The Most Likely Place for Fairie Portals Are...
Lake shores
Islands
Glades in the forest
Where two roads intersect
Fences and border hedges (this is Arial's favorite)
Stairwells, hallways and landings
Tidal pools
Bends in a road
Thresholds
I would like to give special thanks to Gail Schimmelpfennig for allowing me to put her wonderful poem "Seeking the Muse" on my site. You can read her poem in the fairy poetry section under "Fairies in Word and Song". Gail is Utah State Poetry Society's 2009 Poet of the Year, and I'm proud to say, a dear friend. You can find her on FaceBook where there is a group for the Utah poets.